We've spent years using single-use petroleum-based plastics in the horticultural sector.
Now, we want to reduce the huge environmental impact of these plastics by giving growers a choice.
A new sustainable range of compostable products made from GMO-free corn starch that compost along with residual plant material.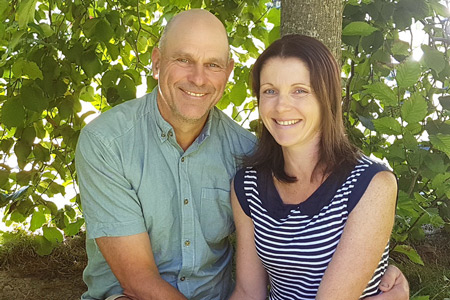 Hi, we're Sean and Kimberley Moffat
Sean was born on a farm and has always worked the land. He loves what he does, puts his heart and soul into his work and is very open to teaching others how to grow organically.  He has the utmost respect for the land and how he treats it.
For over 20 years, Sean has worked at Common Property, the BioGro-certified organic farm that supplies Commonsense stores and organic wholesalers. He has been using compostable mulch film on the farm but it was really hard to get hold of. Supply was really inconsistent – some years they could get it, others they couldn't. So we've decided to take the bull by the horns and import it ourselves.
Kimberley has a degree in Naturopathy and a passion for holistic health and wellbeing. Kimberley and Sean work together on the farm growing delicious organic goodness, some of which is grown on the compostable mulch film. During the busy planting times, you will often see their 3 children helping on the planter. It really is a family affair. Kimberley's philosophy is to live a happy, healthy and sustainable lifestyle where possible.
To teach our children the core values of looking after and respecting the planet and each other.